Get started
Learn how to get started reading the documentation. Connect your record sources to the Datahub and start consuming metadata in your end-user applications.
Quick installation
Spin up a quick installation of the Datahub
---
The Datahub Factory
Automate exchanging metadata between record sources, the Datahub and your end-user applications with the Datahub Factory.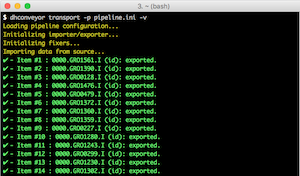 ETL pipelining and you
The Datahub Factory makes it easy to set up ETL pipelines. Extract metadata from record management systems, collection registration systems or static data sources. Transform your records to a standard metadata model. Load them into the Datahub. Automate your workflow.
The Datahub Factory uses Perl, the Catmandu API's and the Catmandu Fix language.